January Newsletter
---
Our Impact
---

A note from Jennifer
Optimism fills our hearts here at the South Sound Reading Foundation as we begin the new year and celebrate our 20th anniversary. For twenty years now we have been bringing the joy and promise of books and reading to children in our region, and you have been a big part of this important work.
We're so grateful for the 90+ individuals who surprised us with books and gave generously through Give Local and year-end donations, helping us raise over $35,000 to kick-off 2021!
Thank you for supporting our local literacy efforts and please join us in celebrating 20 years of service!
Happy reading!
Jennifer W. Forster, Executive Director
---
Sponsor Spotlight: 2021 Opportunities Available Now!
Many thanks to these generous community businesses and organizations whose renewed support is helping families enjoy reading together every day so all children can reach their full potential:
Daniel Berschuaer Mediation Services
Nisqually Indian Tribe
Interested in becoming a sponsor? 2021 sponsorship opportunities for our programs, 20th Anniversary Celebration, Readers are Leaders and Books by the Bay events are available now! Contact Amanda for details.
---

Volunteer Connections: Delivery drivers needed!
Over the last few weeks, we've received a swarm of new requests for book deliveries and need additional delivery drivers!
3-4 hour commitment per month (9am-3pm on a week day).

Delivery day assignment will be based on your availability.

You will be given anywhere from 2-6 partner sites to deliver to on your delivery day. Routes will be assigned based on your preferred service area.

Requires use of personal vehicle and ability to lift boxes weighing up to 40 lbs.
All other information, such as addresses, emergency contact info, and routes will be assigned once the background check has cleared. If you are interested, email us at read2me@nthurston.k12.wa.us and we'll send you a blank copy of our new volunteer application.
Volunteers safely contributed 50 hours of service in the month of December, a gift worth $1275! Check out our online calendar for future volunteer events and contact read2me@nthurston.k12.wa.us for more information.
---

Partners Spotlight
These community partners are essential to our mission and made it possible for us to share 7355 books with children and families last month through our Literacy Bookshelves, Book Van, and Books for the Break programs!
Family Education & Support Services
Friendly Grove Head Start (Olympia)
Herta's In-home Care (Lacey)
Hood Canal School
Mason County Toys for Tots
Moore Wright Group (Tumwater)
Mount Olive Lutheran Daycare & Preschool (Shelton)
North Thurston Public Schools: Family & Youth Resource Center
Olympia School District: Centennial Elementary, Lincoln Options Elementary, LP Brown Elementary
Our Place to Grow (Yelm)
Providence Women's & Children's Services (Olympia)
Rhonda's Rascals (Olympia)
Rochester School District: Rochester Middle,
ROOF Community Services (Rochester)
SeaMar Maternity Suport Services
Shelton Early Childhood Education and Assistance Program (ECEAP)
Skokomish Head Start
Southside School District (Shelton)
Squaxin Island Child Development Center
St. Martin's University/Thurston County Food Bank
Tenino School District: Tenino Elementary
Thurston County Corrections Facility
Tumwater School District: Littlerock Elementary, Peter G. Schmidt Elementary
Turning Point (Olympia)
Yelm Community Schools: Lackamas Elementary, McKenna Elementary, Mill Pond Elementary, Prairie Elementary
Visit our website and follow us on Facebook to learn more about our programs or request services!
---

Recently, we started distributing books to Mason County through our Bag O' Books program! This has been an exciting opportunity to get more books to more kiddos, families, and homes in the community. Since implementing this new program extension with WSU 4-H, we estimate we've given over 650 books to Mason County alone!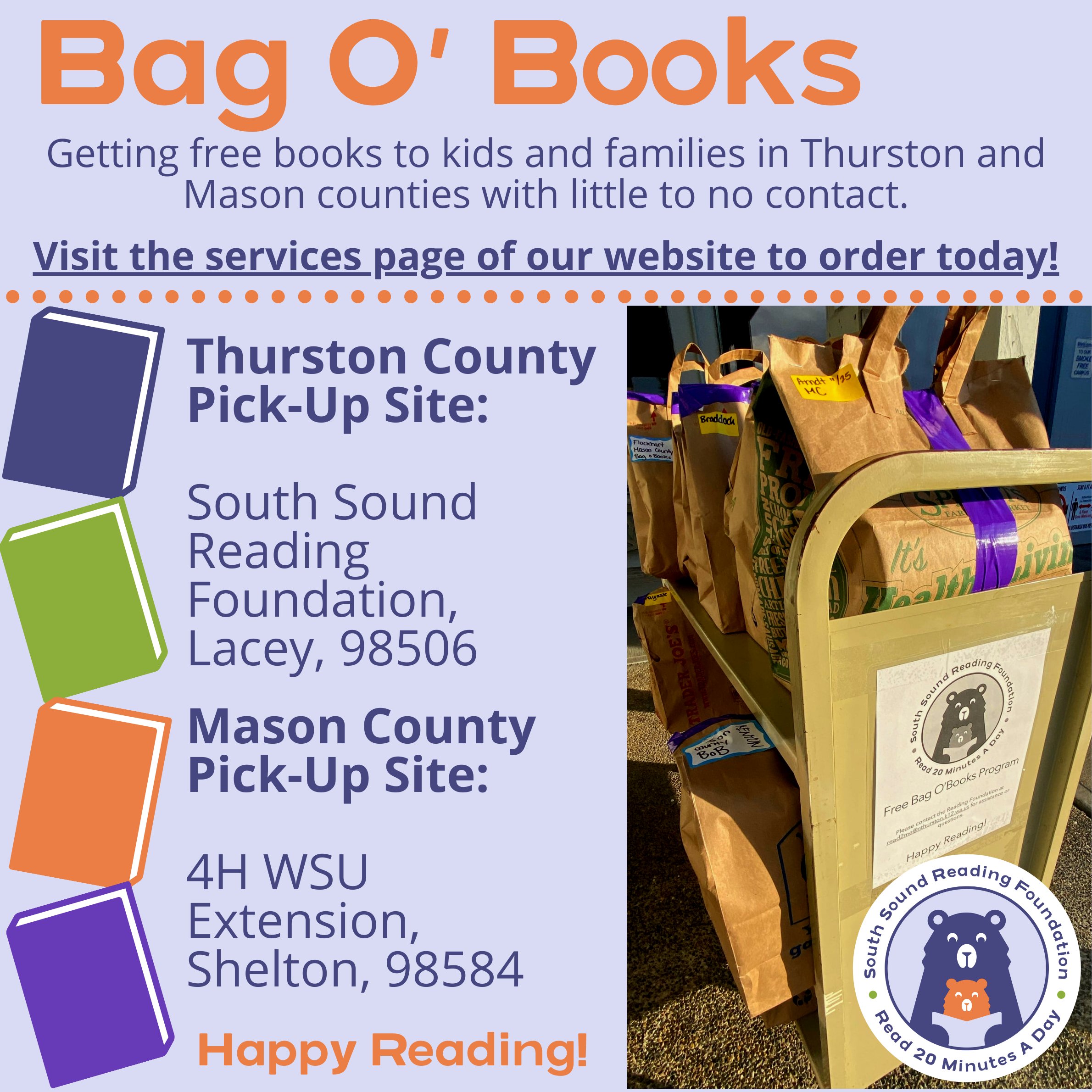 If you are a resident of Mason County, and are interested in receiving books, please fill out our Mason County Jotform: Mason County JotForm. Please note, if you are ordering books for children outside of your family or for children that you work with, please fill out the form as if the children were part of your immediate family. If you are filling the form out for more than 4 children, please email sgage@nthurston.k12.wa.us to place a larger order. Happy Reading!
---
Barnes & Noble Holiday Book Drive A Success!
A HUGE thank you to our partners and friends at Barnes & Noble for this incredible contribution! 1300+ books means 1300+ children will have a new, high-quality book to dive into. Barnes & Noble has continuously supported our organization, and we are so grateful for all that they do to support our mission. SO much joy will come from these books.
Interested in hosting a book drive at your employer or organization? Contact us for more info!
---